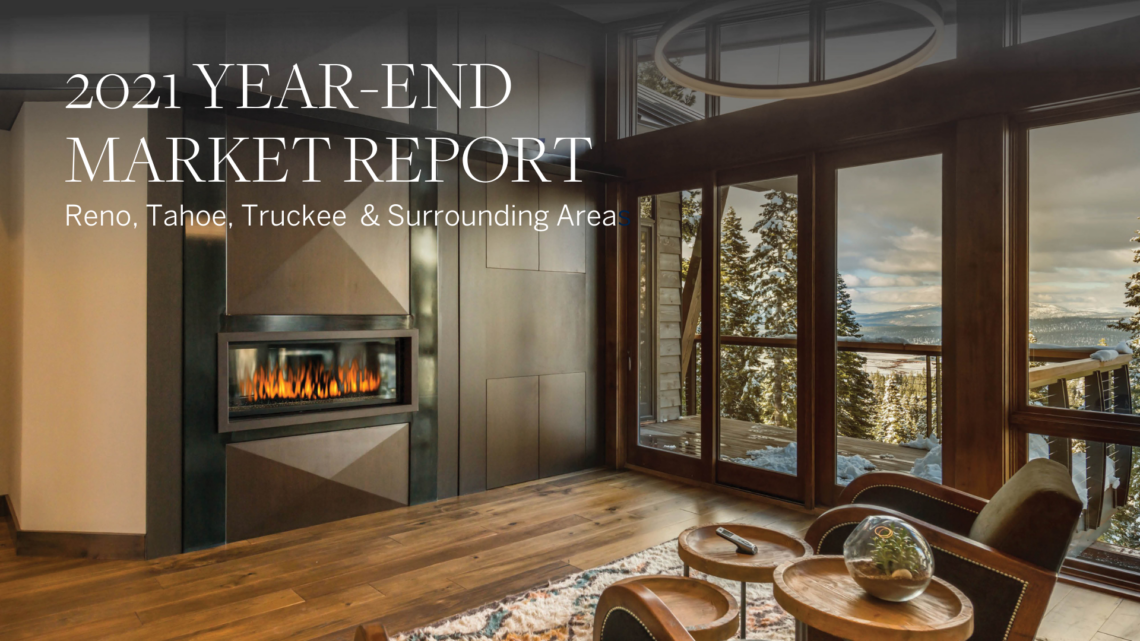 2021 Year End market snapshot for Lake Tahoe, Truckee, Reno and surrounding areas reveal a year of record breaking real estate activity.
Tahoe City, CA (Jan 14, 2022) – The Reno-Tahoe market continues to be defined by a fast-paced activity where home sales are turning over more quickly than available inventory can accommodate.
Year-to-date market snapshots compiled by Sierra Sotheby's International Realty illustrate how fierce demand for the Reno-Tahoe lifestyle affected sale prices across all sectors over the course of 2021. Generally speaking, the total number of listings mirrored past years, however, the turnover was more swift than the supply could accommodate.
The biggest year-over-year increases in median home prices took place in Squaw Valley/Alpine Meadows (49%), Incline Village (38%), Truckee (37%) and North/ West Shore (36%). Reno and surrounding areas also showed significant double-digit gains.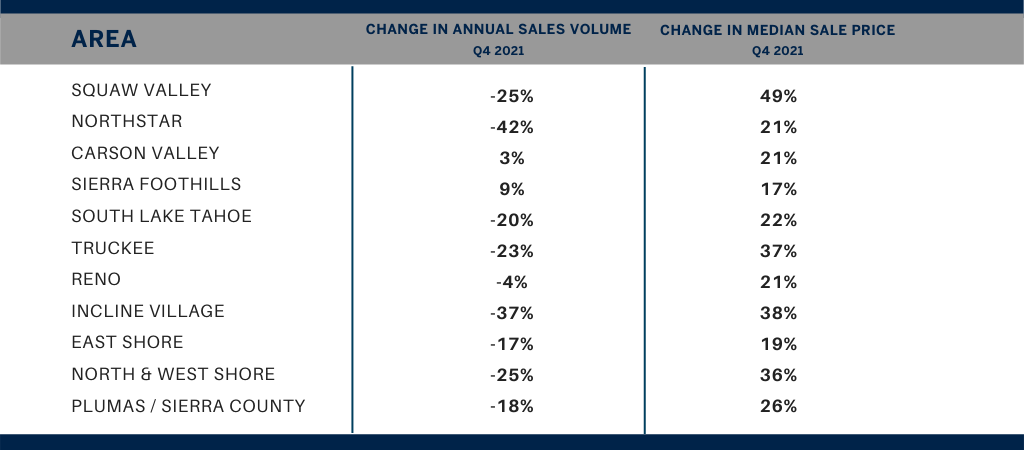 In North Tahoe and Truckee, homes between $750K and $1.5 million made up the highest percentage of sales volume, accounting for 55 percent of total transactions. The most active sector for South Lake Tahoe fell between $500,000 and $750,000, making up 40 percent of sales. And for Reno/Carson Valley homes between $250,000 and $500,000 were the biggest movers accounting for nearly 42 percent of total sales.
At the higher end of the Reno-Tahoe market, sales between $2 and $5 million made up 35 percent of transactions in Incline Village while homes priced between $1 and $2 million accounted for another 39 percent of sales for that market.  66 percent of home sales in Olympic Valley fell between $1.5 and $5 million.  For South Lake Tahoe, 9 percent of sales were over $1.5 million (3 of those topped $5 million). And the North Tahoe and Truckee area showed that sales over $5 million doubled as compared to this time last year while Reno's emerging luxury market showed 14 percent of closed transactions were over $1 million (88 of those were priced between $2 and $5 million and 5 sales broke the $5 million mark).
It's noteworthy to mention that 29 homes sold for over $10 million region wide in 2021 with the highest recorded sale of $47,500,000 in Incline Village and seconded by a $33,000,000 sale on Tahoe's West Shore.
Click here to see the full distribution of sales volume broken down by region.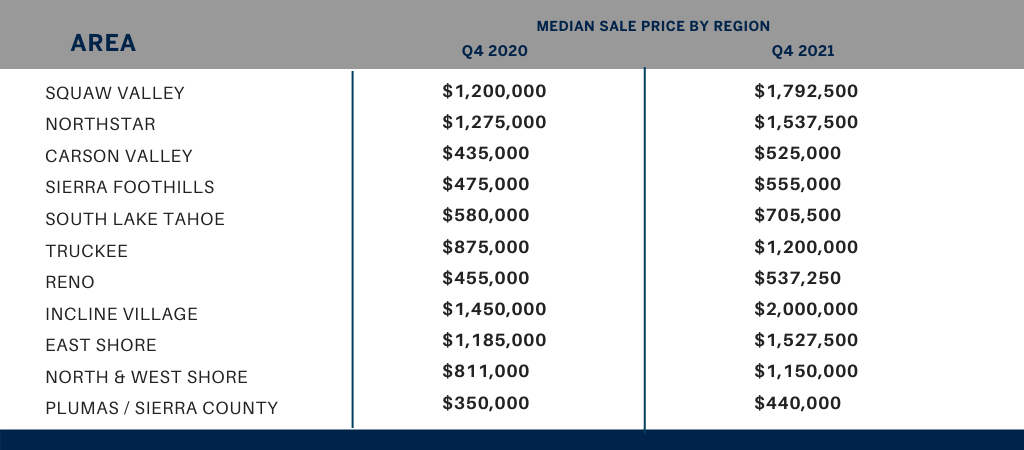 Only the new year will tell if things will ever return to pre-pandemic conditions. Until then, limited supply and pent up demand is pointing to an active and competitive year ahead for area homebuyers. Seasoned agents advise buyers to be prepared to act quickly on competitively priced homes. Be patient and trust that the right home will come along at the right price before paying too much in a frenzied market.
To see critical market data including days on market and percentage of list to sale price broken down by all Reno and Lake Tahoe neighborhoods click below.