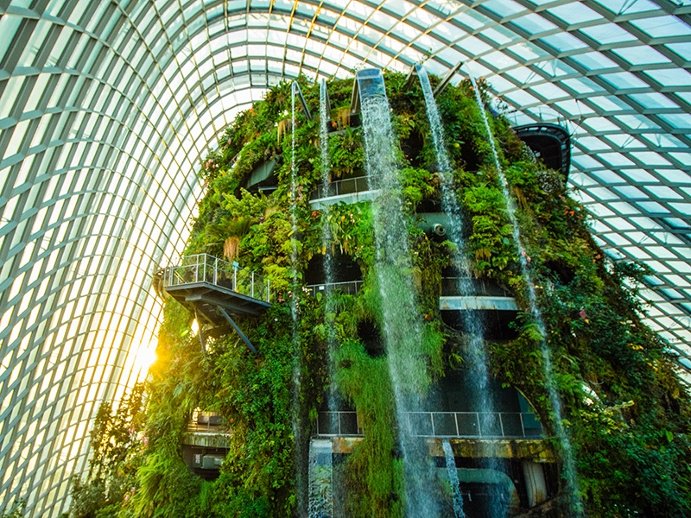 For anyone needing a break from winter, these gorgeous greenhouses around the world are full of exotic plants and boast tropical temperatures
Dreaming of summer weather? Missing green grass and flowers in full bloom? Winter's not quite over for many of us, but there is an escape. We've rounded up seven of the most gorgeous greenhouses around the world, all architecturally significant and horticulturally impressive. Let the exotic plants and tropical temperatures within whisk you away.
1. Gardens by the Bay (pictured above)
Singapore
You could spend an entire day at the multi-award-winning Gardens by the Bay and still have more to experience at this vast waterfront complex. The Flower Dome, named the largest greenhouse in the world by The Guinness Book of Records in 2015, is a staggering arboretum with nine different gardens featuring exotic plants from Africa, Australia, South America, and more. The Cloud Forest conservatory reimagines a mountainous world where high-altitude greenery climbs up an impressive tower. Encircled by a walkway, the tower affords incredible views of the world below and the city beyond the glass.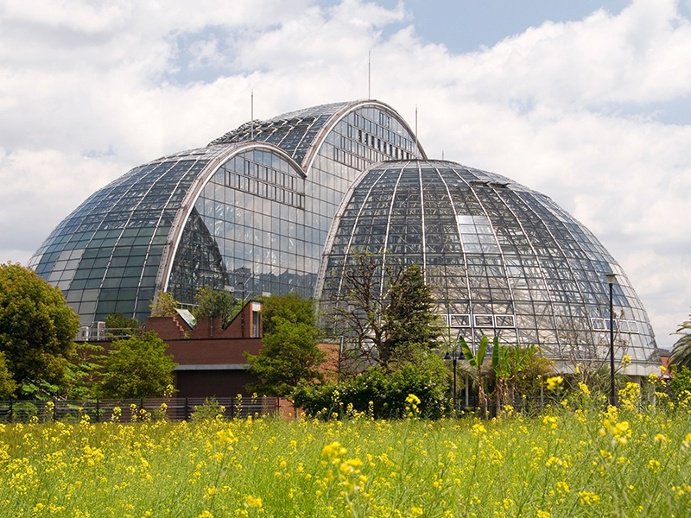 2. Yumenoshima Tropical Greenhouse Dome
Tokyo, Japan
The three interconnected domes that make up the Yumenoshima Tropical Greenhouse Dome feature around 1,000 species of plants, mainly tropical and subtropical, as well as endemic species from the Ogasawara Islands. The flora on these islands, now a UNESCO World Heritage Site, are ecologically distinct—you're bound to see an entirely unique plant species. A separate area houses a collection of carnivorous plants from around the world. A reclaimed former landfill, the island is now a model of sensitive waste management, home to a busy marina and a park filled with cherry trees in addition to the impressive greenhouse domes.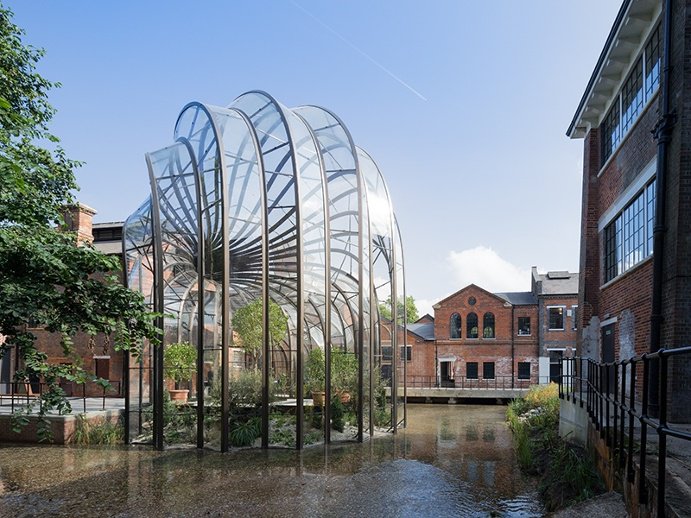 3. Laverstoke Mill
Hampshire, England
Contrasting beautifully with the red brick of gin-maker Bombay Sapphire's distillery, the amorphous glasshouses at Laverstoke Mill were created by celebrated designer Thomas Heatherwick, and are used to grow the herbs and spices that infuse the gin distilled on site. The two intertwined greenhouses are warmed with excess heat from the distillation process—creating a humid environment for tropical plants and dry, temperate conditions for Mediterranean varieties. Combining a gin tasting with a visit to the greenhouse sounds like the perfect day trip from London.
See more amazing greenhouses – continue to full article
From Christie's International Real Estate | Luxury Defined | Feb. 22, 2018