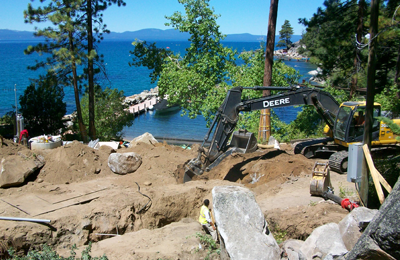 The age-old question of buying vs. building seems to be one of the most frequently asked questions when working with buyers. Transforming a vacant lot into a place you call home is a very time consuming, complicated, and sometimes foreign process. Purchasing your land (vacant lot), which in [the Tahoe] area can cost you upwards of $100,000 just for dirt, is only the start of the building process.
For example, below are just a few of the many important variables to consider when purchasing vacant land:
• Is the lot level?
• Is the lot on public water or on a well system?
• If the lot is on a well system, is it a shared well? Has the well dried up?
• Does the lot have electricity or will you need to bring in power lines?
• Permits
• Zoning
• Is the road paved going in and out of the home site?
I spoke with Christian Edwards, local contractor, builder, and owner of Timberline Construction, regarding home building costs. Costs per square foot vary depending on your location, but we've broken some general numbers down for you below:
Majority of Truckee, including Tahoe Donner and Glenshire: $280/square foot (low-end) to $350 (mid-range)
Local golf communities: $400/square foot (low-end)
North Lake Tahoe: $300/square foot (low-end) to $400 (mid-range)
A few additional costs to consider when embarking on the journey of creating a new home are building permits (which run about $40,000 – $50,000 for the permit alone), finding an architect to design the property, employing reliable contractors, hiring the right builder, ensuring you are meeting local area guidelines and regulations, and staying within the property's zoning limits.
Another common factor in a buyer's decision to purchase a home vs. building one involves the funding. When purchasing a single-family home, many will opt for a conventional loan, which traditionally offers low interest rates and is easier to qualify for. When building a new home, you will need to finance it through what's called a new construction loan, which may prove more challenging than expected. Think of it like this — you are asking the bank to lend you money on something that does not yet exist.
Now I bet you're wondering why a buyer would go through the hassle of building when you can just buy an older home and remodel it to your particular liking. So long as you are happy with the bones of the house, remodeling the kitchen, bedrooms, and bathrooms should be a breeze, right? Think again! Though you will likely pay a lower premium if you buy a property built in 1978, the renovation costs will quickly add up.
The following mid-range remodeling projects can be steep in price, according to the 2015 Remodeling Cost vs. Value Report (produced by Remodeling magazine in cooperation with the National Association of REALTORS® and REALTOR® Magazine). The prices below are based on national averages.
Two-story addition: $161,925
Master suite addition: $111,245
Basement remodel: $65,442
Major kitchen remodel: $56,768
Bathroom addition: $39,578
Roofing replacement: $19,528
Minor kitchen remodel: $19,226
Bathroom remodel: $16,724
Window replacement (wood): $11,341
Window replacement (vinyl): $11,198
In spite of all the obstacles, however, there is something to be said about having the house of your dreams. When building a home of your own, you can watch your Pinterest board come to life, and you can create a unique space incomparable to other homes.
Not only is building an opportunity to make your dream a reality, it is also an opportunity to create jobs and support our local economy.
Content Courtesy of Moonshine Ink article by Amie Quirarte
Gemme Group currently has 7 lots available is Squaw Valley starting as low as $310,000. With a background in Tahoe construction, David Gemme knows a lot about what it takes to build a new home in the Tahoe area. Feel free to contact David with questions, (530) 277-8881, david@gemmegroup.com.