Discover how mountain biking has taken off in the Sierra one trail at a time.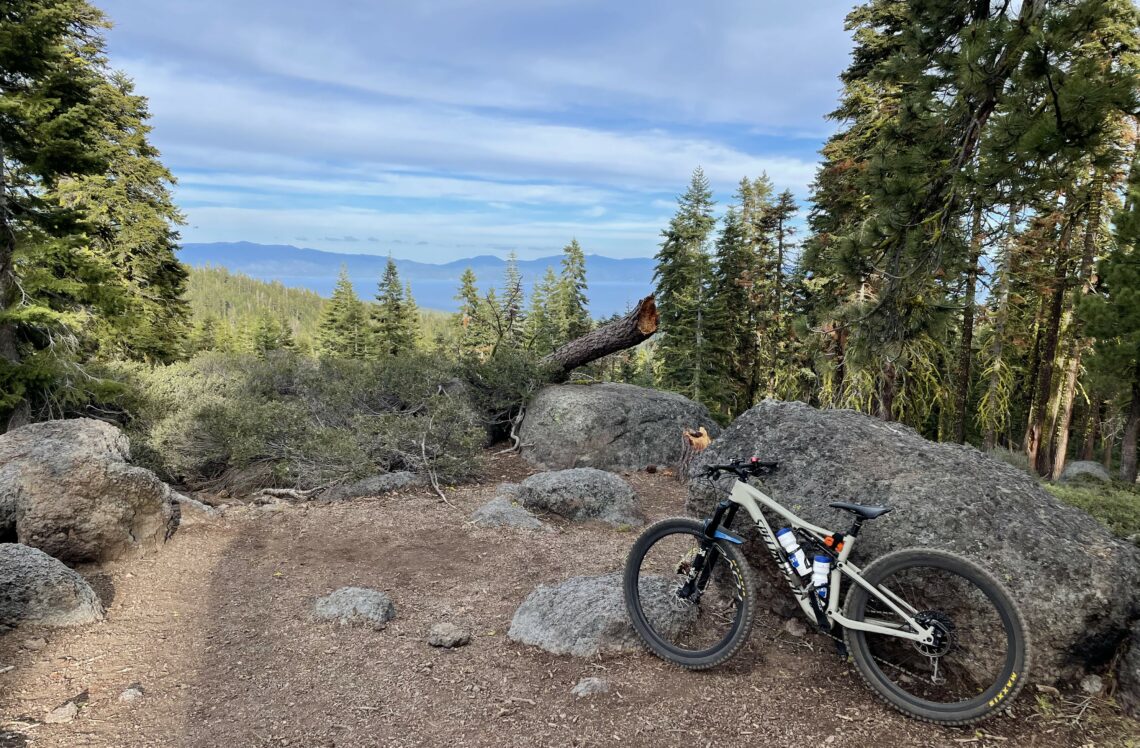 Like most outdoor pastimes, mountain biking has blown up since the pandemic started. Though Reno-Tahoe is blessed with unlimited trails for riders of every level, the powers that be, including a dedicated army of volunteers, can't seem to build them fast enough. The good news? There are plenty of projects underway or slated within the next few years to keep up with demand while being kind to Mother Nature. Here's a roundup of some of the mountain biking organizations, trail systems, parks, and facilities to explore on two wheels this summer. We invite you to ride, volunteer or donate to the nonprofits making a difference.
TAHOE AREA MOUNTAIN BIKING ASSOCIATION (TAMBA)
Most multi-use single tracks here lead to the Tahoe Area Mountain Biking Association (TAMBA), a volunteer-driven nonprofit that maintains over 100 miles of trail annually, in addition to building them and advocating for their multi-use and environmentally-friendly attributes. Its big picture goal is to create an interconnected network of trails around Lake Tahoe that extends to surrounding communities.
"The idea is that riders don't have to drive or take public transport to a trailhead. They can just go out their door," said new executive director Drew Bray, of the project that, once completed, will be designated by the International Mountain Bicycling Association as an IMBA Epic iconic backcountry trail.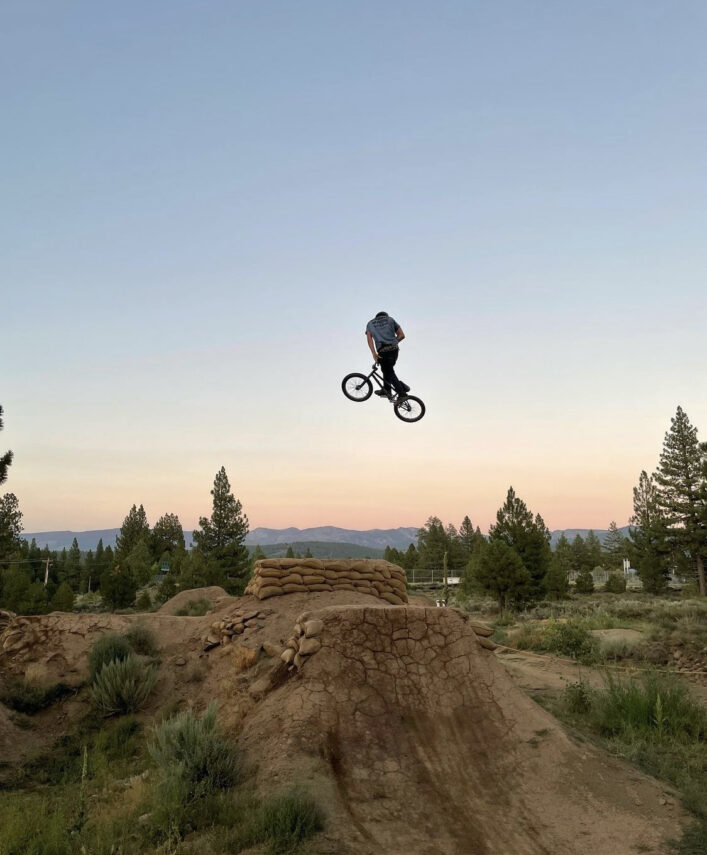 The recent completion of new sections like the Lily Lake and Stanford Rock trails, and the receipt of the first grant from the Tahoe Fund's new Tahoe Trails Endowment in 2021, are inching the organization closer to its goal.
TAMBA's thorough website features descriptions of projects, bike parks and trails, such as the eastern shore's Flume Trail, a tourist magnet for its picture-postcard views. Bray suggests that more highly skilled riders try Mr. Toad's Wild Ride, in South Lake Tahoe, for its challenging vertical drop and boulder patches. The trail also comprises the final portion of the 62-mile [Mount] "Rose to Toad's" signature ride that returns after a COVID-19 hiatus on September 4. Night events are back as well, Bray adds, from Tuneup Tuesdays at Bijou Bike Park to the hilarious, Halloween-costumed Corral Night Ride on October 8. tamba.org
SIERRA BUTTES TRAIL STEWARDSHIP
It's no mystery that mountain biking drives tourism, which Sierra Buttes Trail Stewardship hopes will help reinvigorate economies of former logging and mining towns such as Downieville and Quincy. Slated for completion in 2030, the 618-mile, multi-use Lost Sierra Route connects 15 mountain communities with access to Reno and Truckee. Its 18-inch-wide singletrack welcomes those on foot, bike, e-bike, horse and spark-resistant dirt bike. Users have the advantage of experiencing remote wilderness and popping into town for a place to stay, dine and gas up. Built on public lands adjacent to towns, recreation zones will offer parking, restrooms and interpretive signage about local history and healthy forest initiatives.
"We live in a beautiful area surrounded by national forest, and we need jobs and business opportunities," said executive director Greg Williams, owner of Epic Weekends, where volunteers complete different trail sections, camp under the stars and are rewarded with food and beer. Interested? Hurry, these often sell out. The Downieville Classic Mountain Bike Race [fundraiser] returns next year for its 25th anniversary. sierratrails.org
NORTHSTAR BIKE PARK
Northstar Bike Park, Tahoe's only lift-serviced bike park, operates Thursdays through Sundays. Hop on the Big Springs Gondola, Vista Express and Zephyr Express to ride Northstar California's iconic trails such as Coaster and Gypsy. With its popular Bike Academy and seamless bike rentals, the resort is fast becoming a world-class destination for the mountain sport. For competitive types, the mountain hosts a downhill mountain bike race series throughout the summer featuring 20 divisions for men, women and juniors. Northstar will also host The California Enduro Series on August 27-28. northstarcalifornia.com
TRUCKEE BIKE PARK
Founded by Brooks McMullin and Cortney Knudson, two individuals with the dream of bringing a progressive trail system to the town of Truckee, the Truckee Bike Park has been a work of passion since 2010. Built with individual donations, grants, and fundraising through the non-profit "Biking for a Better World," the park has grown to offer a variety of terrain that's divided into categories such as slope lines, dirt jumps and pump tracks. McMullin and Knudson have collaborated with professional builders to make the trails creative, progressive, and fun for all ages and levels of riders. Access is free to the public seven days a week (weather permitting); however, the park survives on donations and volunteer support. In addition to their annual Little Big Bike Festival, camps and coaching sessions are available. truckeebikepark.org
SIERRA VISTA BIKE PARK
Located on a converted golf course, Reno's Sierra Vista Park features 10 miles of bike trails for beginner, intermediate and advanced riders within its 200+ acres of recreational space. In addition to a multi-use perimeter trail, the city partnered with Biggest Little Trails Stewardship to build downhill bike trails and a connector trail to the Peavine Mountain Trail Network. Recent additions are a practice pump track and drop zone. reno.gov
TRUCKEE DIRT UNION
Instrumental in TAMBA's establishment, Tahoe City's CyclePaths Bike Shop owner Greg Forsyth cofounded Truckee Dirt Union in 2020. The nonprofit, whose simple manifesto is "singletrack radness," recognizes the need for more terrain and collaborates with the U.S. Forest Service and Truckee to build and maintain trails, especially those close to town. "The thousands of riders on the Donkey Town trail network, our most popular in-town trail system, is a testament that people want accessible trails to ride after work or with their kids," said Forsyth. "Due to the limited number of trails, our volunteer force is focused on continuing the effort to maintain and build similar trails in our community." truckeedirtunion.org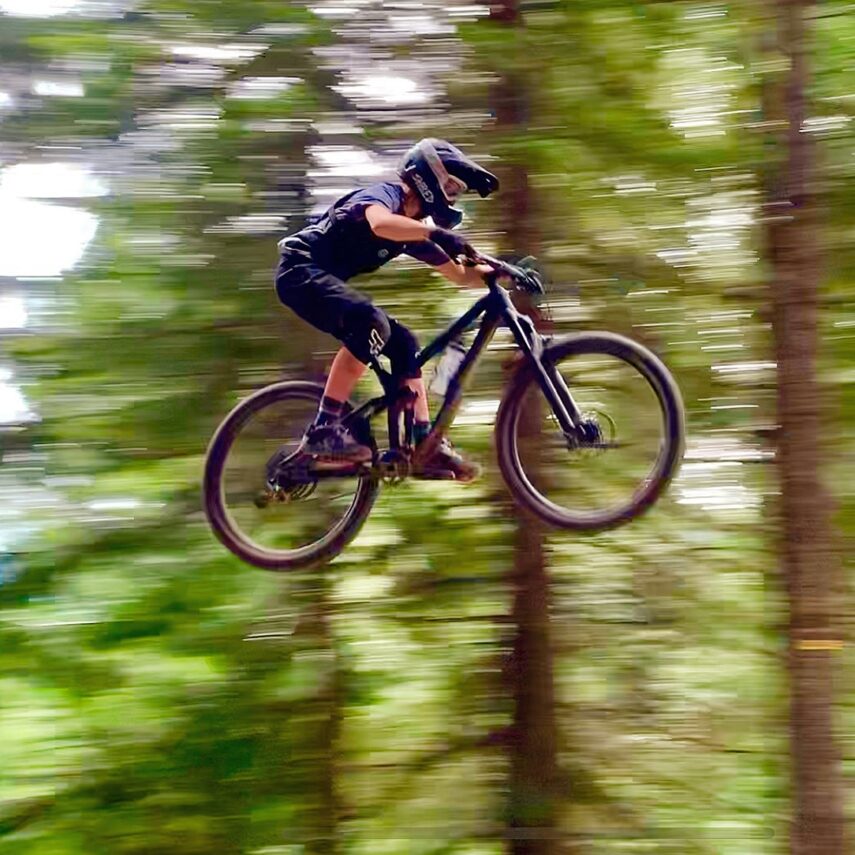 BOREAL / WOODWARD TAHOE
Woodward Tahoe's action sports campus and summer camp takes over Boreal Mountain Resort in summer. Ride the Castle Peak Quad Chairlift to access the Slabs, a network of freestyle trails ranging from the easier River Trail to the advanced Granite Slabs. Or head to the woods to practice jumps and tricks in the Trenches. If you need to build up your confidence first, the Bunker, a 33,000-square-foot indoor center for action sports, offers indoor foam pits to practice bike jumps with soft landings. There's also a mountain bike camp, among many activity-specific programs for kids. Day passes are available during Play Forever Fridays. rideboreal.com
KIRKWOOD MOUNTAIN RESORT
Kirkwood Mountain Resort's plentiful bike trails, some of which allow e-bikes, are easily accessed by view-rich village roads and ski lifts. Riders of all levels will find something here with features ranging from a pump track to log rides. After a day of pedaling, treat yourself to a frosty beverage at the Kirkwood Inn & Saloon dating to 1864. kirkwood.com
For information about trails, gear and instruction, visit a local bike shop and talk to the guys and gals who are as passionate about the area as they are their toys. "We only represent stuff that we use and wear, from the helmets on our heads to the shoes on our feet," said Forsyth. Many shops such as CyclePaths host events to help introduce more people to the sport. "We launched beginner and intermediate women's rides twice a month and a women's emergency bike repair workshop," he adds.