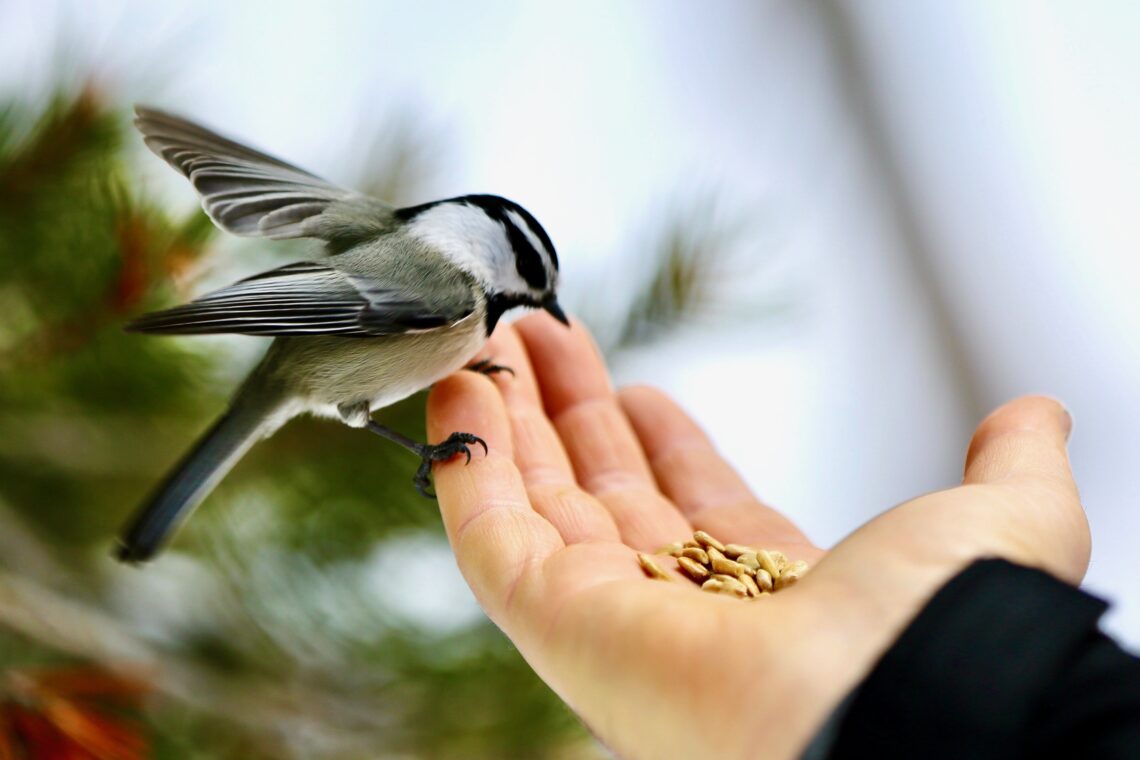 If you've spent time in Tahoe you probably have heard the chickadees make their cute whistle that sounds as if they are saying cheese -burg-er.  The funny noises they make have given them the nickname "cheeseburger birds" among the locals.
Chickadee Ridge 
During the winter, beautiful Mt Rose meadow has a great hiking trail (Chickadee Ridge) where these cute little birds will eat seed right out of your hand.  This hike is great for the entire family including dogs and children.  It is often well traveled in the winter, but snowshoes can be needed depending on the snow conditions.  If you are a backcountry skier, you can also use your backcountry skis.  It is a good introductory site for individuals who are new to backcountry skiing.  This hike is a little less than two miles with breath taking views of lake Tahoe.  In addition, this hike is on the mellow side, that being said, it is at a high altitude so it can feel strenuous. To get to this fun hike from Tahoe take highway 431 to Reno, this is near Incline village.  Close to the summit you will pass a large meadow where there is parking along the road.  There is a sledding hill on the north side of the road and Chickadee Ridge will be on the south.  There are trail markers along the path.
State-Line Lookout
Perfect sunset views can be seen at the State-Line Lookout.  With one foot in California and one in Nevada you can look down and marvel at the beauty that is Lake Tahoe.   This is great experience for the entire family.  It is a 2-mile hike that is paved the entire length.  You will enjoy stunning views of the lake the entire length of this walk. Depending on weather conditions snowshoes might be needed or Yaktrax.  In Kings Beach, Tahoe Dave's rents snowshoes, and any other equipment you may need.  It is located just a few minutes away from the State-Line lookout tail head.  Yaktrax are little metal and rubber wires for traction that can slip over almost any shoe and can be found at most hardware stores in this area.  State-Line lookout is also a trail to Daydreams a paragliding and hang-gliding launch site.  The trailhead is located behind the Biltmore on Lake View Avenue.  At the highest point of the street there are pull outs available for parking on the right side of the street, near the gated entrance.
Eagle Rock
Eagle rock has unbeatable views for the effort it takes to get to the top. This hike is only .7 miles with 239 feet of elevation gain making it a great experience when you don't have time for the longer hikes.  In addition, it is perfect for training to become acclimated to hiking at this altitude. This trail has it all, kid and dog friendly, unbeatable views and excellent for bird watching. Depending on snow conditions you may need snowshoes or Yaktrax.   There are also several sport rock climbs that are well bolted at the bottom/start of the hike. The trail head is 3370 W Lake Blvd near Tahoma/ Homewood.  When you are done hiking for the day and have worked up an appetite or thirst the West Shore Cafe is close by.