News headlines shared the latest word on housing sales, Gross Domestic Product and inflation … helping home loan rates remain in historically low territory.
In housing news, January Existing Home Sales edged 0.4 percent higher from December to an annual rate of 5.47 million units, according to the National Association of REALTORS®. The increase was the highest level since July 2015. In the past year, sales are up 11 percent, the largest year-over-year gain since the 16.3 percent annual rise in July 2013. January New Home Sales, on the other hand, fell 9.2 percent from December.
The second reading of Gross Domestic Product (GDP) from the final quarter of 2015 showed growth of 1 percent, above the 0.4 percent expected and the 0.7 percent recorded in the first reading. GDP is one of the primary gauges of the health of our country's economy and represents the total dollar value of all goods and services produced over a specific time period. Readings should be at least 2.5 percent to signify growth.
Finally, inflation, as measured by the Core Personal Consumption Expenditures index, rose 0.3 percent in January from December and year-over-year 1.5 percent. Inflation is not Bond-friendly news, meaning it also isn't a good sign for home loan rates, which are tied to Mortgage Bonds. While inflation has not been an issue for some time, after the rise in January's Core Consumer Price Index as well, it is definitely something to monitor.
The mix of news held Mortgage Bonds fairly steady the past week, helping keep home loan rates near historic lows.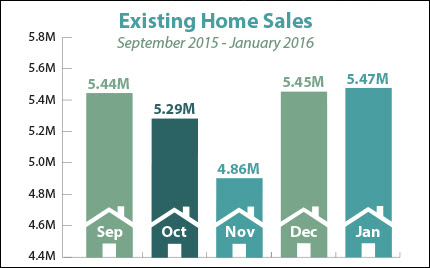 This report brought to you by OMG Mortgage.