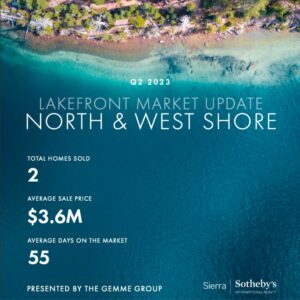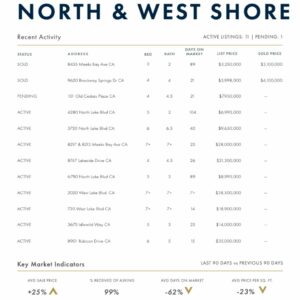 Summer is in full swing in beautiful Lake Tahoe. The beaches are packed, buoy fields are at capacity, and lake levels are at their peak. It's that time of year, when family time takes priority, your BBQ is a staple in your life, and a moon rise over the lake ignites your soul.
In light of the challenging winter of 2023 and the fluctuating economy and all of the other chaos in the world, the real estate market has remained strong and is beginning to show some interesting trends. Luxury lakefront properties at higher price points have seen slower sales, while lower-end properties have experienced quicker movement. In 2023, there were only two lakefront sales on the north and west shores of Lake Tahoe. Currently, there are 12 active listings with a median list price of $16,444,000, the highest being $35,000,000 and the lowest being $3,550,000. This data brings us to an average of $3,735 per square foot.
The summer selling season is currently at its peak, and we should continue to see inventory and sales increase as we move towards Fall. As we continue to see new listings, we reflect on the history and story behind them. We enjoy telling those stories through the global connections and distinctive marketing of Sotheby's International Realty. If you have a property and are thinking of selling, we would like to tell your story. We welcome the opportunity to help you or someone you love. Contact us today.
Click here to view the entire Lakefront market report for North, East, South, and West Shore, Incline Village, and Donner Lake.