Yuba Expeditions in Downieville
Permanetly Closes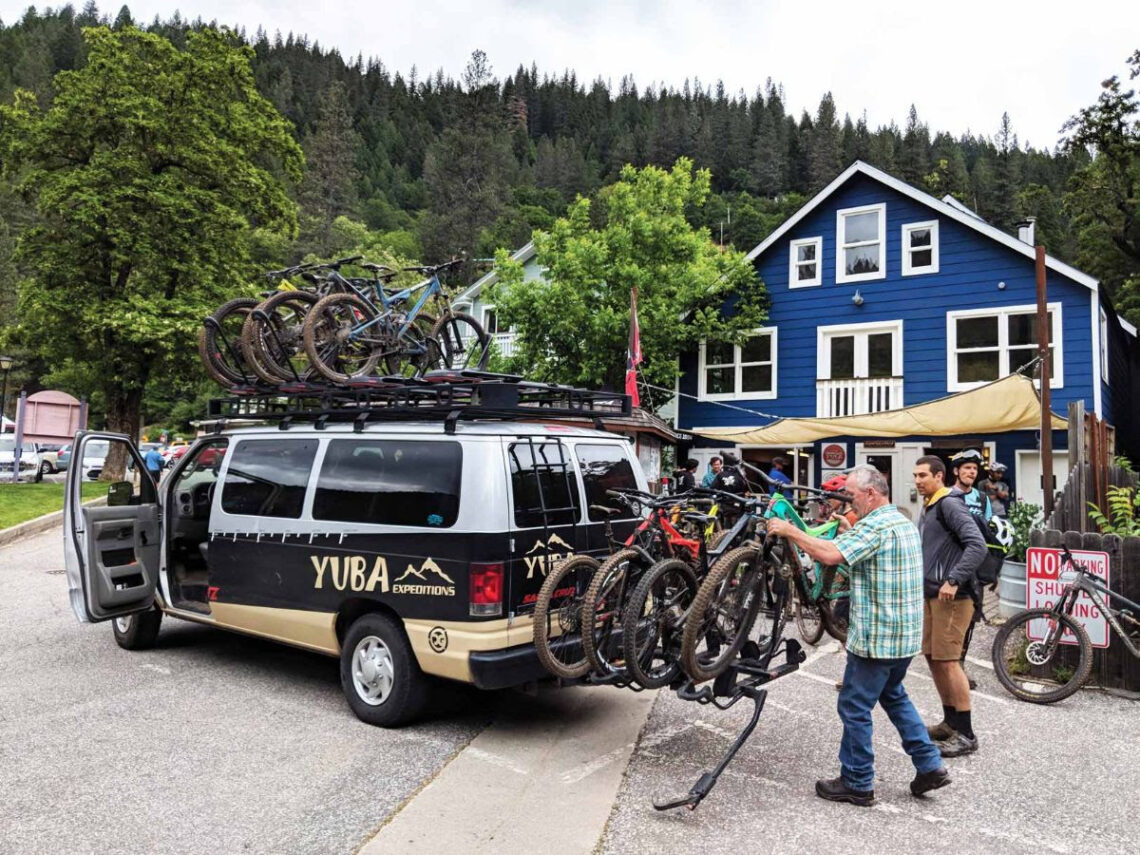 The gateway to many riders' first Lost Sierra experience.
It's with a heavy heart that we announce the closing of Yuba Expeditions in Downieville, CA after nearly 30 years of business in town. However, Yuba Expeditions Adventure Center in Quincy, CA will continue to operate in 2022 and beyond.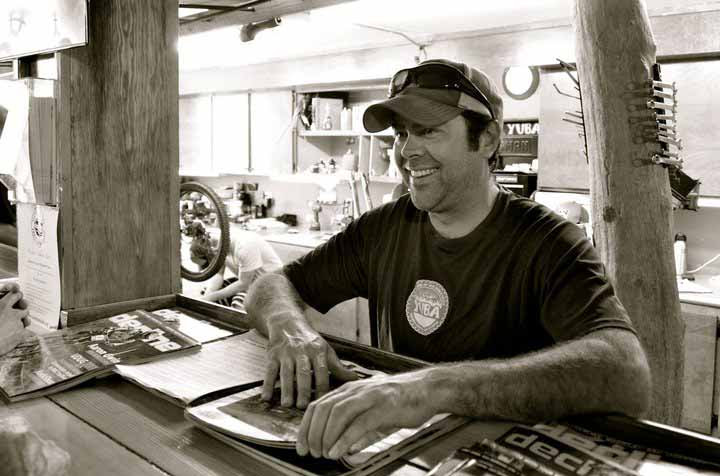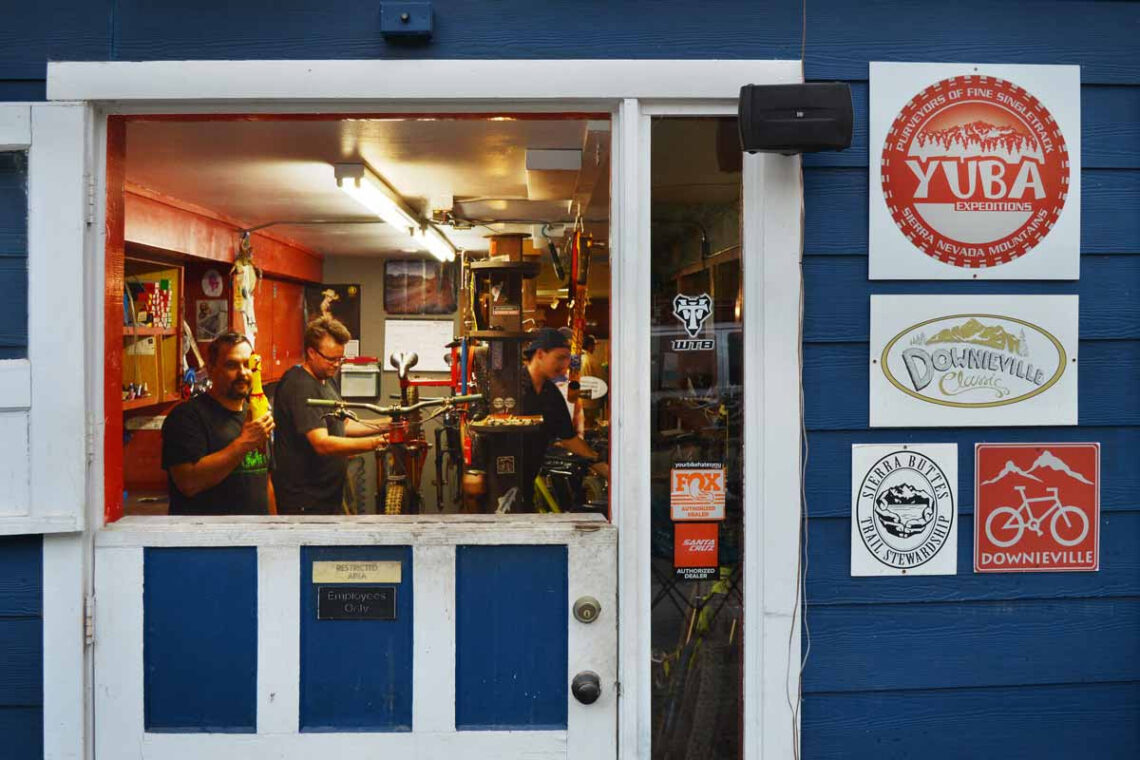 This was an extremely tough decision to close our shop in Downieville, and it is a reflection of how Sierra Buttes Trail Stewardship (SBTS) has evolved as an organization and pivoting our focus on the Connected Communities Project.
Downieville is the case study of the Project considering how it has grown into an international recreation destination – and the town survives thanks to the thousands of mountain bikers who visit each year.
But we're really not leaving Downieville. Moving forward, our location at 208 Main Street will serve as the public-facing base of SBTS operations for our trail crew in Downieville, be a gathering point for future bike and ebike guiding services, and act as a hub to support the Downieville Classic when it returns in 2023. Although we are closing the Downieville Yuba bike shop, we are working on ways to continue shuttle operations to Packer Saddle for the Downieville Downhill and Tower to Town as well as showcasing other trails SBTS builds and maintains in the Lakes Basin/Graeagle and Quincy areas. More to come on this as we prepare for summer.
Spring Clean-up Trail Work Begins
Volunteer Work Begins Tuesday, April 5th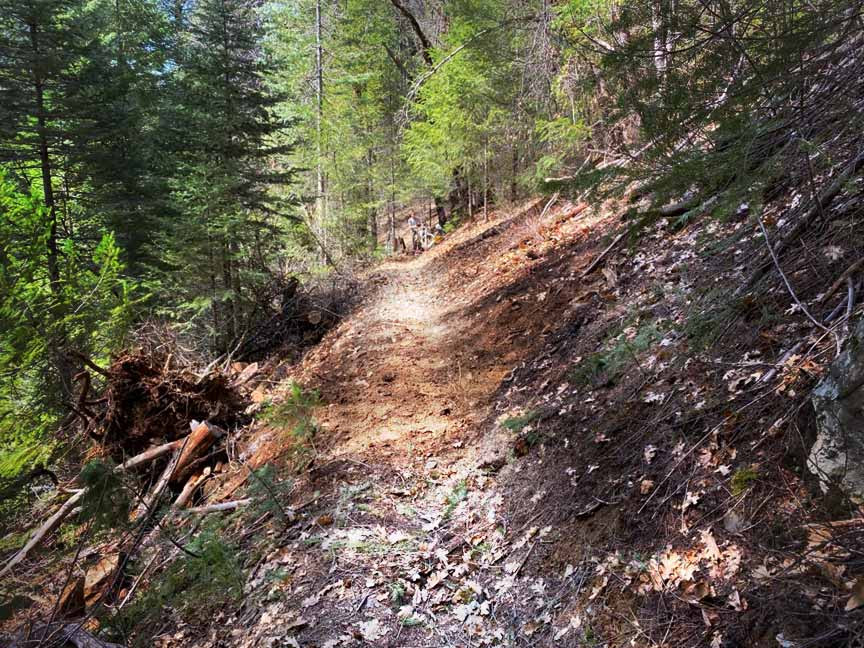 The gateway to many riders' first Lost Sierra experience.
Our trail crew has begun our spring clean-up as we clear out logs and debris on the trails – important work as winter concludes and people get excited to get out and recreate. We've already begun logging out trails in Downieville including getting 1st, 2nd and 3rd Divide trails open. We cleared eight trees on 1st Divide and 2nd Divide was a total mess. We lost count on how many trees we cleared, but the crew burned through four tanks of fuel and didn't get off the trail until 6pm that evening. These trails are now OPEN (from the bottom not the top as Packer Saddle is still snowbound), but there is still a lot of clean-up to be done on 2nd Divide.
SBTS helps maintain over 200 miles of trail annually on the Tahoe, Plumas and Lassen National Forests and having volunteers come out and work on trails is what makes this possible. Our Trail Daze workdays start next week on Tuesday, April 5 from 3pm to 7:30pm in Quincy, CA on Mount Hough. Then on the weekend of April 29 to May 1, we will have our first Mountain Epic trail day weekend of the year. Camp out, work on trails and go have fun afterward. We have events planned all summer long. We look forward to hosting you this summer in the Lost Sierra!
Ground Truthing the Lost Sierra Route Begins
The 600+ mile Lost Sierra Route will be constructed to National Forest specification for motorized multiple use to accommodate all singletrack user types and will require a melding of Class 2 and 3 trail specifications for hiker/pedestrians, pack & saddle, bicycle and motorcycles. This melding of standards will allow for trail construction that accommodates sustainable and enjoyable multiple-use. Some sections of existing trail networks will be incorporated into the Route, including current trails in Downieville, Quincy and some of the other 15 mountain towns that are part of the Connected Communities Project.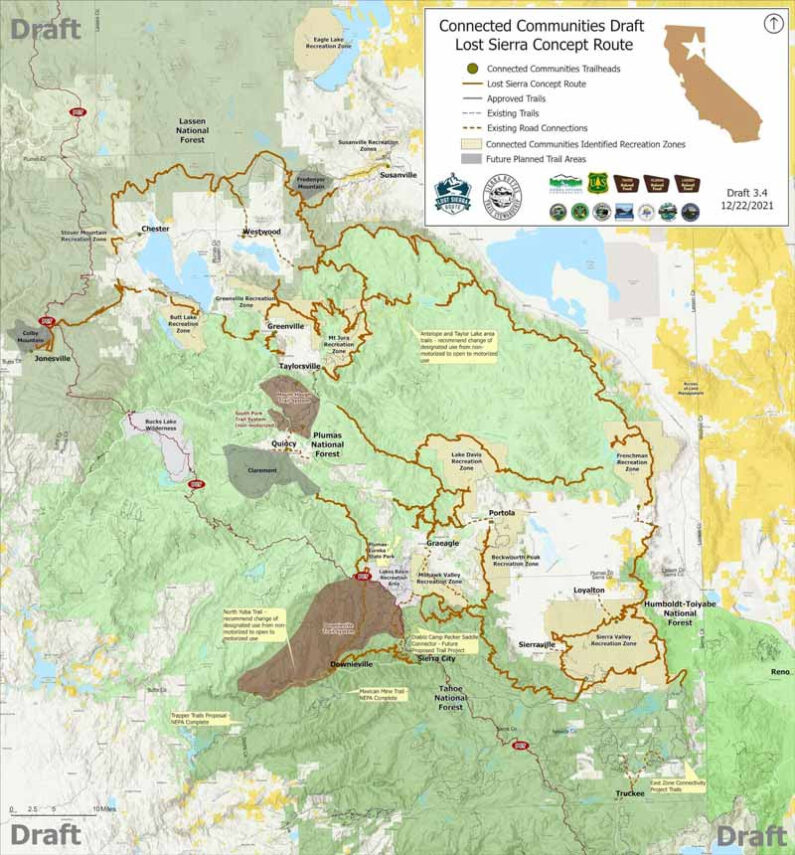 In late Spring, we will begin our work "ground truthing" the additional trail segments. This involves essentially walking, surveying and mapping 600-miles of trail corridor to prepare for environmental reviews. This is not an easy task as it involves working deep in overgrown brush to lay out the future trail corridor. Considerations must be made for topography, plants, animals, watersheds as well as the potential for encountering historical and cultural artifacts. Where possible, we will utilize existing trails and infrastructure including access/service roads, bridges and existing motorized routes.
We will continue to share the team's adventures with you as they begin mapping out the Lost Sierra Route this summer! And if you want to be a part of this team, we are still taking applications for our Trail Designer and Data Collector positions where you can help us ground truth the Route.
All content and images provided by Sierra Buttes Trail Stewardship.